The year of 2015 was a slow reading year for me. I typically would have little trouble meeting my goal of 100 books. This year, I have yet to reach my goal of 75 books. I have 36 hours and 13 books to go (with seven books on my Currently Reading shelf). Do you think I can make it?
Of the books I read this year, several were standouts. I read widely, so this will include some fantasy, some historical, some nonfiction and even a gorgeous book that you might think was written for children. These are not reviews, per se, but my recommendations. You can find a synopsis of any of these titles on GoodReads or Amazon.
First up, the two books that I want to highlight the most. These are the books that I recommend without fail, that I cannot stop thrusting into the hands of unwary passersby. I even handsold a copy of one of these to a friend at a bookstore – and I don't even work there! Without further ado, here are my favorite reads from 2015.
THE LIBRARY AT MOUNT CHAR
by Scott Hawkins
What do you do when you find that your god needs to be replaced? This is the one I handsold. This is the book that when I finished it, I wanted to turn right around and start reading it again. This book enlarged my world and blew my mind. It is gory in places, but the story swept me along so that I didn't even mind how many different ways people were being killed. The mythology, the magic, the languages – THE LIBRARY! Oh, I'm a sucker for a lovely library, with floors of jade and a ceiling that reaches the sky. But there's much more to it, and Hawkins delivers on all fronts. Doesn't hurt that he is a super accessible on GoodReads and his blog and he gifts his readers with insight, as well as an extra short story now and then. I hardly ever read anything with the word 'contemporary' in it, but this contemporary fantasy does everything right. He's been compared to Neil Gaiman, and earns every bit of it.
THE WATCHMAKER OF FILIGREE STREET by Natasha Pulley
For a swift journey back to Victorian London, you can't go wrong here. This story takes all that is magical about London, and with a funky clockwork steampunk vibe, makes it about all the universal things that we are so concerned with: belonging, choices, finding your way in life, possibilities, and chance. The concerns feel modern, yet we are completely present in Victorian London. The characters build until you are rooting for them, whether they are good or bad. Exploring the idea of knowing what might happen, and how that affects things, and what change a chance encounter can exhibit. There was just enough tension, but not too much, and the intriguing magical realism lent an other-worldly air to that seemed exotic, along with the Japanese flourishes. What would you do if you could sense what was going to happen? How would it affect your life if you saw sounds as colors? I enjoyed this book so much, I'm leading the discussion on it in book club in two months. Think Aimee Bender meets Cassandra Clare.
SERIES
The Grisha Trilogy by Leigh Bardugo
I read these straight through, and boy howdy, am I glad I did. There is nothing quite like completely inhabiting a world, and Bardugo takes you there and sticks you in it. As Alina's fortunes rise and fall, your heart will too. You will fall in love repeatedly, you will root for and then banish bad guys, you will despair and then be uplifted. Just start with Shadow and Bone and cozy up with all three. Surrender to the Russianesque flourishes, the empirical splendor, the daring and the imagination. It's a truly fun ride. Shadow and Bone, Siege and Storm, Ruin and Rising.
My treat to myself for New Year's Eve will be reading SIX OF CROWS, also by Leigh Bardugo, which is set in the same world but is a different storyline. I've been looking forward to this for months. I have no doubt that it will deliver everything the hype has promised.
Miss Peregrine's Home for Peculiar Children by Ransom Riggs
I likewise read these all straight through, once the final volume came out. These kept me up way past my bedtime, as I wondered how on earth the children were going to get out of yet another seemingly deadly situation (SPOILER: they do). But even as they survive each grim encounter, you wonder how their kind will survive overall, and that is what kept me turning pages. Top that with the strange and curious photos that accompany each chapter, which really help you to picture the characters and bring the story to life. I loved the erstwhile love story background to it all, I loved the imagination of how this society lived and thrived and then merely survived, and what will happen to them next. Spellbinding. Miss Peregrine's Home for Peculiar Children, Hollow City, Library of Souls.
Contemporary Fiction
KITCHENS OF THE GREAT MIDWEST by J. Ryan Stradal
I am still, months later, in love with Eva. I want more of Eva. This is, in the same vein as Stonich's VACATIONLAND, a collection of stories, really, all connected by their relationship to one woman. Each chapter features a different food (with recipes!!). I love the pure sensory detail of it, but the characters shine through, even with as large a cast as this. Life, love, food. What else is there? This one brings it home, and particularly so if you have an attachment to the Midwest. True Minnesota flavor.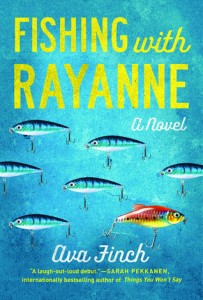 FISHING WITH RAYANNE by Ava Finch
Call it chick lit if you like, but this lovely story, with its feisty heroine, made me sit up and take notice. I loved Rayanne, I loved her grit and determination but also her insecurity and vulnerability. I like how she knows the right thing to do but can't always quite manage it. I like how she loves Dot, but somehow manages her mother and father too. I love how she found herself in fishing, and in so doing, made a name for herself, a life for herself, in a field with few women, but I wouldn't call her a feminist. I can't wait for the next one in this trilogy. Also, that whole Minnesota thing, done so well.
Honorable mention in novels:
ILLUMINAE by Amie Kaufman
Such a cool presentation, a story told in real time excerpts via email, reports and instant messages. I loved the story, I loved the experience. Even if you have never read a piece of science fiction, you will enjoy this space story/romance.
FIRST CIRCLE CLUB by Alex Siegel
I love a good mystery, but am less enamored with thrillers. However, this supernatural thriller picked me up and carried me along and then gently set me down at the end, and I can't wait for the next one. Heaven and hell band together to fight an unknown foe – what could possibly go wrong?
Children's Book
THE SLEEPER AND THE SPINDLE by Neil Gaiman
This gorgeous book, with its breathtaking and detailed pen and ink drawings, vellum jacket and beautiful prose, will carry you along just fine… until suddenly, in true Gaimanesque fashion, it veers wildly off to the left and you are careening down a road that you never dreamed existed. Recommended for strong-willed girls, unless you want to truly tame them. Boys will enjoy it too, don't get me wrong. I simply loved this original retelling of the Sleeping Beauty tale. Just stunning. I've recommended it to a slew of friends already.
Nonfiction
Because I review books about literature for Library Journal, I invariably come across gems so delicious that I just must share them. This year was no exception. Here are a few that grabbed me.
ONE HUNDRED DEMONS
by Lynda Barry
You might flip through this quickly, but it will surely leave you with food for thought. I loved how she took something that at face value might seem innocuous, and then turned it into a profound statement on life. I also loved the way it was presented. A truly talented artist, Barry seems to also be something of a philosopher.
RARE BOOKS UNCOVERED: True Stories of Fantastic Finds in Unlikely Places by Rebecca Rego Barry
This book made me cry. At the end of the story about the manuscript discovered in the attic, how that house had seen so much history, I don't know why, but I was just overcome. It also served to awaken in me a latent tendency for collecting. I've dabbled in book collecting over the years, but this book is such a handy primer to the passion, it is like a how-to. And who am I to resist? I gave it a starred review for Library Journal. This book will give you hope for that pearl in the oyster.
Honorable Mention in nonfiction: These titles were so valuable to me over the past year, I would be remiss in not mentioning them.
THE EMPEROR OF ALL MALADIES: A Biography of Cancer
by Siddhartha Mukherjee
A completely accessible and clear-cut exploration of the treatment of cancer. Anyone who has been touched by this monstrous disease and who has wondered why will find some answers here.
THE LIFE-CHANGING MAGIC OF TIDYING UP by Marie Kondo
I have read this through at least twice, and will likely read it again before too long. Kondo's method will work for you, but it won't be quick. Her idea of sorting by category rather than location in attempts to declutter is a game-changer.
In my years of writing for Examiner, I always enjoyed round-up posts. You can find my year-end Best of posts there, as well as an annual Halloween Reading post. The last one of these was done on my writing blog, because I no longer wanted to post on Examiner but hadn't yet gotten this blog up. Included in that post was The Library at Mount Char and the Miss Peregrine's series. They are just that creepy!
There are many more books on my list, many more books in stacks and piles around my house, and many more that I hope to review on this blog over the coming year. The reviews won't all be this long. 🙂 I hope you will join me!