I know, I am late with this. But I really wanted to give a final wrap on it. Bloggiesta is a really cool idea, and I will definitely do it again. As it happens, I kind of get a Fail in execution this time, though.
My list was not long, or every complicated. What I managed to do was this:
I participated in three Bloggiesta chats, which were very helpful! And I met some cool folks, so that's always good. Each chat was on a different topic, and I would like to go back and read the chats for the topics I missed, but not sure if I will be able to do that. Twitter only goes back so far sometimes. (I actually participated in five chats total and that was probably a little bit of overkill on my part, because the other two were purely for fun.)
I rearranged my widgets, bringing some of them up from the footer into the sidebar, so that they would be more visible. I didn't add any new ones, though.
I looked into the documentation on UBB, and read through some of it. I even got a specific answer to one of my questions from NoseGraze herself, because she was participating in one of the chats! So thanks, Ashley, for the link to how to create a Book Review Archive! I will have to implement much more of the UBB plugin, because I know it will help me manage my blog.
Sadly, I did not finish my Q&As, write two blog posts, or set up my email. I also didn't order the tote bag but I'm working on that tonight! I organized a little bit of my reading schedule but I could always use more of that, right?
So the bad news is I didn't do what I set out to do. The good news is that part of the reason for this is that I suddenly got three writing assignments, so I had to step up my work schedule to get some things done earlier than I had thought, to get them out of the way. So it was a busy week last week, and this week is even busier. It's always something, right? I am not complaining! The life of a freelancer is fraught with those kinds of situations.
I do have some wonderful things planned, though. So please check back soon! Or better yet, you can either subscribe to the blog (see that handy widget in the sidebar? "Join five other subscribers!"), follow me on BlogLovin', or follow me on Twitter! If you have participated in Bloggiesta or any of the other blog challenges, leave a note, let me know how you did!
Oh, and speaking of Challenges – I will be participating in two Instagram Challenges during the month of April! I've just started my bookstagram, but I really do love it. It combines two of my favorite things: books and photography! So check out my posts under the hashtags #BookApril, hosted by @rac.onteur or #AmpersandApril16, hosted by @commasandampersands or heck, just follow me on Instagram! I'm @LindaBookMania there!
Now I'm off to read the galleys that just arrived. I'll be interviewing three authors next week for the BEA PW Show Daily. Look for my articles there if you go to BEA!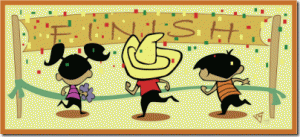 (Bloggiesta buttons courtesy of bloggiesta.com)