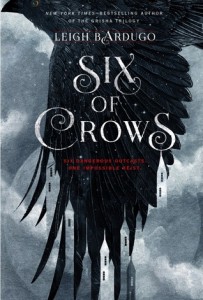 The beauty of this book, for me, is that it brought me back to a world that I had only reluctantly left, and brought with it a whole new cast of wonderful characters for me to love. Unredeemable, unrepentant, immoral characters with a mission. Each one of them has reasons for what they do. Each one of them has demons.
This is a story that is related to the previous Grisha trilogy only in that it takes place within the same world. In my OCD state of mind, I would recommend reading the Grisha trilogy first, because these events obviously take place after the events of that trilogy. There are some minor spoilers for the trilogy, but if that doesn't bother you, you can enjoy this, the first book of a new duology, all on its own merits.
So what makes this world so great? In the trilogy, I loved how everything sounded Russian, or slightly Eastern European. Almost, but not quite. In this book, the action shifts to an island off the coast of the mainland (handy map included, of course!), and the influence feels Dutch. That makes it somewhat familiar, yet closely exotic. The mark of a good book is often how fully the story pulls you into another world, how transported you feel, how much you want to inhabit that world. Well, this is one of those books.
The story involves an underage kingpin, Kaz, who gets a chance to go for a real prize, with the reward of his dreams. He has to pull together the crew to do this, and he knows just who he wants. There is Inej, his faithful sidekick and ninja-like cat-burglar/secret stealer; Nina, a heartrender Grisha who just wants to go home; and Matthias, who took an oath to kill Grisha wherever he found them. There is Jesper, a little desperate, maybe comic relief; and Wylan, a mystery why he's there, and what he can do.
I won't go into too many more details; I don't want to spoil the fun. But as the crew is assembled, we find out more about each of them: dark, murky histories that belie their ages. All of this is masterfully woven together with an exciting present-day mission that can either spell disaster or salvation.
"The heart is an arrow. It demands aim to land true."
The plans are complicated – you'll need to pay close attention. The heist target is incredible, and the aftermath is, well… no. I won't even go there. Just know that this particular story will have you on the edge of your seat. In fact, bolt the doors, draw the shades, lay in some provisions. You are in for a helluva ride.
Aside: Excuse me while I geek out for just a moment, but another reason I bought this book, instead of getting it from the library, was because of how gorgeous it is. The book itself, as an object and a work of art, is beautiful. Black-stained fore-edges, black-stained pages between the sections of the book, lovely chapter headings, and even little black crow dingbats to indicate scene shifts. A gorgeous cover with embossed lettering, blood-red endpapers, and two – count 'em – two maps. Oh my. It was just a joy to hold in my hands. I hugged this book, people.
Tip: I pre-ordered this book in order to get some awesome swag. I have never done that before in my life. But it was worth it. I got a full-color, two-sided poster: one side is the map of the Ice Court (which is one of the maps in the book), while the other is the whole motley crew, drawn as you might imagine them. I was excited about the map at first, but as I got to know the characters, it was great to have them sitting there with me. I also received a Six of Crows signed bookplate. I can't tell you how thrilled I was when I opened that package! If there is swag offered for the next book, I will definitely preorder!
Bonus: The next book title in the series has been announced! It is Crooked Kingdom, and it will be out in September of 2016. Cannot. Wait.
Six of Crows by Leigh Bardugo
Henry Holt & Co., hardcover, 465 pages
ISBN 1627792120
Grisha Trilogy
Shadow & Bone, Siege & Storm, Ruin & Rising