It's time for another installment of spooky reads, folks! If you are looking to get some chills and thrills from your reading, look no further. However, note that I don't do horror, so you probably won't get any jump scares out of these selections.
If you're counting, this is the ninth annual Halloween Reads list. I've been on the hunt since 2011. Since before this blog, when I posted on Examiner.com. Check the links at the bottom for the posts for previous years. This year, there seems to be a bumper crop of spooky reads! So without further ado, here is my list for your spoopy reading pleasure!
Rebecca by Daphne du Maurier – Classic
This is the only book on the list that I have not read. I really meant to but what with my reread of Dracula and all, I just didn't get to it. However, my understanding is that this is more in line with The Turn of the Screw – a psychological, gothic story that might leave you with shivers. This has been seeing a bit of a popularity boom on Instagram, and I can only conclude that it is deserved.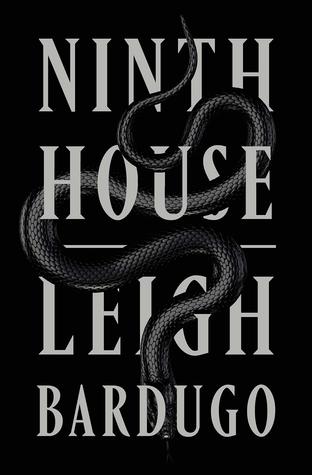 Ninth House by Leigh Bardugo – Adult fantasy
A long-awaited new book from one of my favorite authors, and it did not disappoint. If you are up for a perfectly creepy story that delves behind the façade and is set at a contemporary college, then this is for you. It is a complex story with deep roots, and a hellacious ride. An expertly crafted paranormal mystery with more twists and turns than you can imagine, this is about secret societies, inexplicable happenings, those things you catch just out of the corner of your eye, the demons that reside in hell and sometimes inside of us, and the haunting that we get from behind the veil as well as our own past. Note that this is not YA, as are Bardugo's previous titles. This is her first adult fantasy.
Last Things by Jacqueline West – YA Fantasy

I reviewed this here last May, but I want to be sure to give it its due and encourage you to pick it up this time of year. What could possibly be spooky about a dark forest, a little abandoned shack, a boy who suddenly writes hit songs, and a girl who is always being pursued? This is a great suspenseful read set in a small town in northern Minnesota, full of heavy metal music and characters who will shock you. Check out my full review to get more details.
The Daughters of Temperance Hobbs by Katherine Howe – Contemporary/historical fiction
A follow-up to The Physick Book of Deliverance Dane, this is a loose sequel. I think you can safely read this without having read Physick. However, the first book is so good, why not treat yourself to both? In this book, Connie is a professor whose life is about to change a whole lot. The book shifts back and forth between Deliverance in 1661 and Connie in 1995 Boston. Connie is faced with a choice that relates to a centuries-old curse – does she risk her fiance's life trying to break it? Or play it safe and let him go? It's a little bit of a love story, but a whole lot of family dynamics and some hocus pocus too.
Sabriel by Garth Nix – YA Fantasy

I have read most of this series now and I can see that it is going to be an all-time favorite. Necromancers, walking into Death, and lands that are separated by a wall, where one side is magic and the other isn't? Yes, sign me up. Add to that incredible heroines – we get to know Sabriel through her action-packed story, but then later we meet Lireal and Clariel. The mysteries of this world deepen and the magic is phenomenal. Excellent world building, including magical familiars and bells with different functions, and all kinds of nasty creatures. If you haven't already, go back and resurrect this older series. You won't be sorry. Also known as the Old Kingdom or Abhorsen series (don't ask me why we can't settle on one).
Endless Night by Agatha Christie – Mystery
This is not one of her detective series, but one of her psychological thrillers. I don't typically like these, as I have fallen so in love with Miss Marple and Poirot over the years (particularly this year, when I am co-hosting a monthly Miss Marple readalong on Instagram, and participating in another readalong of various Agatha titles. I read this for that other readalong) that I miss them when they are not present. But this one was so full of foreboding, so twisty turny, and had such a great ending, that I have to say, if you haven't tried Agatha yet, and you like mysteries, you may want to start here. It starts slow but I was absolutely gobsmacked at the end. If you are reading her detective series, I believe you should start at the beginning for those. The Mysterious Affair at Styles for Poirot, and The Murder at the Vicarage for Miss Marple.
Toil and Trouble by Augusten Burroughs – Memoir

This reads like one of those romcoms where one half of a couple tries to convince the other half of the couple to move from midtown Manhattan to a fixer upper in the fields of Connecticut. Oh wait. That's kind of what it is. But the twist is that Burroughs has a family history of witchcraft, sees things before they happen, hears things no one else can hear (like trees groaning) and has uncanny premonitions that he can see in a kind of movie in his head. Until it goes white static. This is funny, heart wrenching, intriguing, thought-provoking and encouraging. It may open your mind up to things that you thought were myth, or reassure you about things that you experience. Overall, I enjoyed it, and while it's not scary, it does give you a good witchy vibe. Like this, "What I am certain of is that there's something wonky going on beneath the surface of what we call reality. Things are most definitely not as they appear. Things are much, much more." I mean, isn't that kind of what we all want? More?
You can always find my Halloween Reads from previous years as well. Check here and here and here, and find links to more. I've got two more years to add to this site, so I hope to do that this week. I so enjoy this time of year, and for me, nothing is better than curling up on the couch with the first blanket of the season and a spooky read on my lap, while the wind whips the leaves off the trees outside. I hope you find something you like here, and if you have any suggestions, please do share! I want to hear what your favorite spooky read is!