Every year since 2011 I have done a round-up this time of year of spooky and creepy reads that I have enjoyed. I have sometimes included horror recommendations from other people (like in last year's post from Alison at Little Bookworm), but I haven't read those because I am a chicken. This year, though, I am happy to supply several titles that seriously fit the bill. I personally know a couple of these authors, but honestly, that has no bearing on my recommendation. They are all great stories.
At the bottom you will find links to my previous years' posts, and an apology from me for falling off the radar here for so long. First, on to the books!
Historical Fiction
Daughters of the Witching Hill by Mary Sharratt

Do you want to read about real witches? Or, at least, those accused of witchcraft. This story is based on court transcripts from the real Pendle witch trial in Lancashire, England in 1612. This story is captivating, heart-breaking and fascinating. Sharratt brings to life with startling clarity what happens when the worlds of organized religion collide and country tradition becomes suspect. You will love our heroine, Alizon, and your heart will ache for her. All she wanted to do was buy some pins from a pedlar, but unfortunately, the man dropped into a fit shortly after she talked to him. The day she is to start her first job at the big manor suddenly spins horribly wrong, and she finds herself in a living hell. I found this mesmerizing, and the fact that it is based on real events makes it horrifying. And if you like historical fiction that is amazingly well-done, check out the rest of Sharratt's books.
Middle Grade Supernatural Fantasy
A Properly Unhaunted Place by William Alexander
This MG title will satisfy children and adults alike. I mean, it has everything: Rosa, a spunky heroine with a rather unusual pastime, a spooky mystery to solve, and part of it is set in a library. What more could you ask for? I love all of Will Alexander's books, and this one did not disappoint. It takes the tradition of Day of the Dead and turns it on its head. What happens when you do not properly remember those who have passed? I also love all the heart and soul entwined in those squiggly black lines: the importance of family, how just when things look the darkest, perhaps the talents we have will be most needed. Deep, lovely and engrossing, five stars. See my full review here.
Supernatural Mystery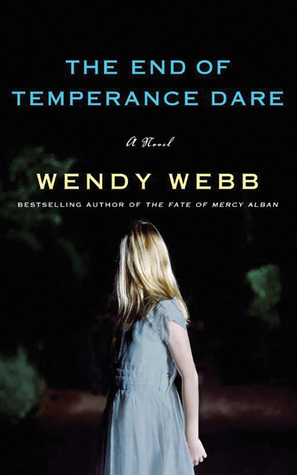 The End of Temperance Dare by Wendy Webb
Creeptastic. Another great atmospheric tale from Minnesota's own Wendy Webb, known around these parts as the Queen of the Northern Gothic. What do you get when you take an old remote sanitarium, turn it into an artists' retreat, and a newbie director comes to work there? A creepy story full of twists and turns, things that go bump in the night and possibly much more. Retiring director Penelope Dare gives new director Norrie Harper a first day she will never forget, and things just escalate from there. Norrie learns the story of the Dare family, who ran the place way back when. Then there is the odd situation with the dollhouse in the playroom. Why do the dolls at the table look familiar? Who is the handsome man who lives in the house on the edge of the grounds? Why is the old guy at the boathouse yelling about death? And who was Temperance Dare, anyway? Webb invokes the setting for all it is worth, and to great effect. The characters are well-built, down to the artists who arrive for their retreat, only to discover they each share a surprising statistic. This is one to snuggle down with, with the wind blowing outside. Lock the doors. Lock the windows. Aw hell, just read it in the daytime.
Classic
The Moonstone by Wilkie Collins
I tried to read this. I really did. But it took weeks for me to get to page 173. In the Introduction, the author himself says that he thought the book didn't really pick up steam until the second part, the narrative of Miss Clack. So I'm determined to get that far. And I'm almost there. To me, this book is very much a period piece, along the lines of The Remains of the Day (which I never finished either). If you like that type of thing, you may like this. There is a stolen jewel, nefarious monks (not really monks, but guardian priests), and at least one dead body (I am hoping it is soon). I don't want to inject my pessimism on this title too much here, but it is disappointing. I had been hearing about this for years, and have even heard of people re-reading it. That now sounds to me like an impossibility. The significance of this title is that it is considered to be the first English detective novel. Published in 1868, it is the best-known of Collins' novels, who is known as the first English writer of detective and mystery novels. I may try The Woman in White if I can find it, as that has been listed among the 100 Greatest Novels of all Time by Robert McCrum and made the top 100 in the BBC survey The Big Read.
Mystery
Magpie Murders by Anthony Horowitz
I haven't finished this one yet, but I am certain I will. I know, that's two books that I did not finish in one round-up. But I am confident that this one will deliver, if only because the first chapter had me thinking about it for weeks. I picked it up at work as an ARC, just before release. I read the first chapter, and felt such foreboding that I had to put it down. But now I've picked it up again and I am on page 143. Or am I? The page numbers are not really sequential. I am reading a book within a book. It is a story about a manuscript, and how reading it changed an editor's life. But it is also a cracking good manuscript and I want to know whodunit. I also want to know how reading a manuscript can ostracize you from your life.
The story starts with an editor at her home called Crouch End. By the end of that first short chapter, we know that she no longer owns Crouch End, most of her friends won't speak to her, and she is wishing she had never picked this up. The manuscript in question has a very Hercule Poirot flavor to it, although the detective is German (a camp survivor) and his name is Pund. I love Hercule and I love this. I want to know who is killing off the residents of Saxby-on-Avon and whether or not the deaths are related to the development scheme that would destroy a local beloved wood. I hate those schemes. This has promised to be like nothing else I've ever read and the Agatha similarities aside, I am sure the conceit of it will prove that to be the case. If this one is half as good as it feels right now, I'm going to be up late this weekend again.

I don't have a children's book this year, mostly because I simply haven't had time to look for one. I didn't go to a trade convention this year and I have not been reading catalogs as much as I normally do. But I saw this flowchart yesterday and the lovely ladies over at Pages Unbound have graciously given me permission to post it here. If you are still looking for a great Halloween Read, check this out! I have only read two of the titles on this chart, so I am happy to say that I have my work cut out for me.
I have been traveling a lot – three trips in two months. And while that is not an excuse (I've been in a lot of bookstores, too!), I want all of you to know that I did not intend to really take such an extended hiatus. If you are looking for more Halloween Reads, you can read my previous posts in these links, here and here and here. I've got some earlier ones and one that I had to post on my other blog, here. I rescued my earlier posts from the Examiner website which has disappeared. There are lots of good tales included! And I will be back soon. I promise I have a good reason for all this being away.