My year got hijacked. I started off strong, reading something like 20 books in January (thanks in large part to a part-time job as a warming house attendant, which essentially meant uninterrupted reading time on most days). Then I got a job at a bookstore. Sounds ideal, right? Well, it really cut into my reading time, I can tell you that!
However, I did manage to get close to my goal of 75 books. I might even make it. At this writing, I have two days left, and I've read 60 books. And there's a readathon tomorrow!
But all that aside, I did manage to read some great books this year. Books that blew me away, and that made me think, that stayed with me. And that is always the best thing. The following are the ones I most heartily recommend.
Fantasy
The Language of Thorns by Leigh Bardugo
Every year, my library book group does a Christmas party where we each bring our favorite book to share with the group. This year, I wanted to bring a book I owned, and I wanted it to be something more than a good story. I settled on The Language of Thorns, both as a lovely book that is a pleasure to hold (as are all Leigh's books, really), and as an imaginative, original collection of stories set in a world that I always want to return to.
This collection of several fairytales set in the Grisha world covers a lot of ground. It leads you into the forest and out through the ocean. What a wonderful way to get more of the Grisha universe. If you haven't read the Grisha trilogy, you can still enjoy these. But I highly recommend everyone read the trilogy first. Everyone. Read the trilogy!
All the Crooked Saints by Maggie Stiefvater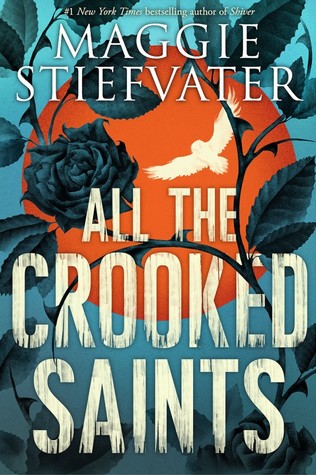 I think this book is different from the other books Maggie has written. I have read her Mercy Falls series, and half of The Raven Cycle. This book was more surreal. More magical realism. It had more depth to it, although initially it confused me and I wasn't sure where it was going. I remember saying I felt unmoored, adrift. But then, it caught. And once it caught, it took off like a shot and carried me along and wow what a ride. If you are a little unsure of the beginning, I am telling you – give yourself permission to be patient until at least page 100. I think this book was made even more powerful for me by Maggie's talk on the tour. I went to see her for the first time, and she was not only wonderfully, hilariously funny, but she gave me an even deeper understanding of this book and what she was trying to do. Highly recommend.
Heartstone by Ella Katharine White

This is billed as historical fantasy but there is nothing historical about it, except that it is a loose retelling of Pride & Prejudice. The elements become more clear as you go, but you don't have to go far before you are rooting for Aliza. She should go down as one of the best bad-ass heroines. She loves her family, and she is just a normal girl. Plus, hey, there's dragons, and Akarra is the coolest of these. She is Smaug-smart and kind of bad-ass herself. This book keeps coming back to me in bits and pieces, and I will probably reread it at some point. If you like dragons and/or Pride & Prejudice, or even if you don't, you have got to grab this one.
The Star-Touched Queen by Roshani Choski
Much has been said about this gorgeously written fantasy (this is a 2016 release and I don't know why it took me so long to read it. Sometimes I am slow). It does not disappoint. You will be swept away by this world, by these words, by Maya and by the completely unpredictable tack of this story. She delicately balances story and craft and comes up with a lush and beautiful story. From the weight of a heartbeat to the force of a thousand lifetimes, she leads us to the end. I somehow didn't get my hands on A Crown of Wishes until recently – maybe I forgot how much I loved this one? But I can't wait for this story to continue. Yep, you guessed it. Five stars.
The Girl from Everywhere by Heidi Heilig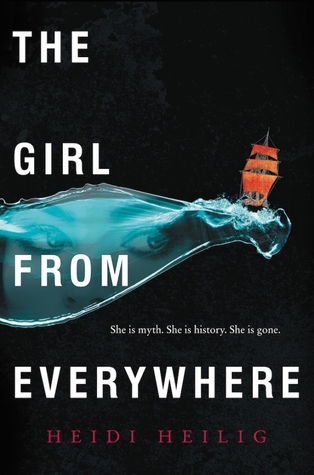 This was such a fun, original read – such a great lush setting, such a wacky, wild premise. I devoured this. I loved the whole concept of Navigation – there are rules. We are given a new reality. And that reality – maybe it can change. According to which map you use. Oh my gosh. I was in love with Nix and Kash by page 50. But after that, all bets are off – what will she do? What is her plan? How will it change? Where will they go next? Will they find her mother? What if they do? And what are the rules? And what happens is just as wild and wonderful as the idea that makes it possible. I somehow haven't picked up the second book yet – what is wrong with me? – but I will remedy that shortly. You should read this one, though, right now.
YA Contemporary
City of Saints and Thieves
by Natalie C. Anderson
This gripping YA thriller had me locked on from the start – I gulped it down in two 200-page sittings, rocketing from one question to another, from one situation to another, from the dusty streets of Sangui to the carpeted halls of the Greybill mansion, from the decrepit hospital to the dense, humid forest. It was gripping, compelling, full of details and characters with heart, that made it all seem like a newsreel or documentary, unspooling in front of you. All the human emotions and realities collided with the greed of business and the lust for power, capturing children in its grip. I loved Tiny and her crew, especially BoyBoy. At the end, I cried. And I was happy about it. But I have seen this compared to Gone Girl and, no. There was nothing unreliable about this narrator. This was Girl with a Dragon Tattoo meets Life After Life. So many choices. So many unanswered questions. *whispers* Five stars!
Upside of Unrequited by Becky Albertalli

Something different for me, a real contemporary. No dragons, no magic caves. Just a suburban family and a girl getting her first job. And a boy. And a wedding and a sister and a life. I absolutely ADORED Molly and this whole book. It had laugh-out-loud moments and it had sweet, bittersweet, sad moments that rang all too true. But it felt like a deliriously true depiction of a young girl and maybe her first not-unrequited love. This book does a great job at exploring many things: identity, sexuality, and relationships of all kinds. Body image and why things happen the way they do. What love is and what it is for. I gave this five stars on GoodReads. A contemporary. I know!
Other stuff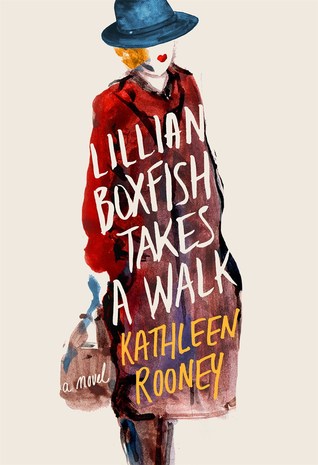 Lillian Boxfish Takes a Walk
by Kathleen Rooney
I want to go pick Lillian up from her lovely apartment, and take her to lunch with me. Every day. I not only loved Lillian, but I loved the construct of this – a perambulatory novel! I love the way that Lillian grows with us throughout her walk. Her story is interesting, and gives us a tiny little glimpse – like through a porthole – of a vanished New York City, at its finest and its worst. I loved Lillian. She is the consummate fighter. She is smart, she is witty, and above all, she is caring. Her walk was wonderful. Take a walk on New Year's Eve with everyone's favorite aunt. She has ups, she has downs, and she comes out okay.
A Properly Unhaunted Place by William Alexander

This Middle Grade fantasy is firmly rooted in Latin culture's Day of the Dead mythos, with an interesting twist. Award-winning author Alexander has created a whole line of work and a whole town's history to illustrate how important it is that we honor our ancestors. But it's better than that, really. Rosa is a feisty heroine with resources that she doesn't even know about, and this story hinges on the history of her family. But it's also about the town she has just moved to, where her ghost-appeasement specialist mom won't have any ghosts to appease – because there are none. A library without ghosts? It is an interesting problem. This book was tops on my Halloween Reads list this year. I just want everyone to know that Will Alexander is a magician: he takes these squiggly black lines and uses them to create magic. It's deep, it's lovely, and it's engrossing. You got it. Five stars.
What a good reading year. You know, even if I don't make my challenge, that's okay. I traveled a lot (a LOT!) and I had a lot of fun. I was around books a good deal, and I read some fantastic ones. I got to handsell several of these titles. Oh, and I finished writing the first draft of my own novel. So overall, yeah, it was a pretty stellar year in books.