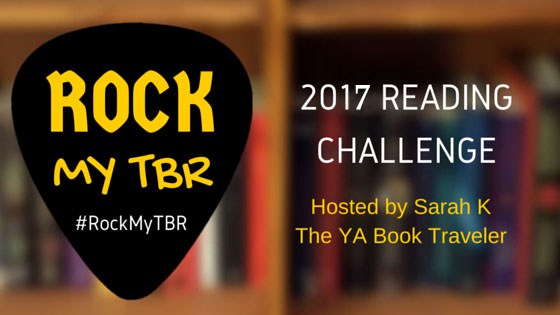 I love this challenge. I tried to do it last year, sort of. I made it maybe two months. But I didn't have a plan, and I didn't have a post. So here I am, holding myself accountable. Unfortunately, I am too late to link up with the intro post. This is hosted by Sarah at The YA Book Traveler and I am so glad she's doing it again! It's a great way to be sure your books are not languishing too long on the shelf! I tend to use my library a lot, so this helps me add to that.
Since last year didn't go so well, I have laid out some rules for this year for myself.
My Rules for #RockMyTBR
You must make the TBR from books you already own, whether they are packed away, on your shelves or in piles on your floor does not matter.
You can put books anywhere on the TBR for the year, using whatever criteria you want to read whatever you want whenever you want.
You can switch out books for another on your TBR, but only WITHIN your TBR. If you trade a top book for a later book, you cannot trade that top book again. You must read it when you come to it.
You cannot add any newly purchased books to this TBR. This is only for books you owned at the beginning of the year.
I reserve the right to add any books from my shelves, but only in addition to the books already on the list.
These kind of fall in line with what Sarah has already outlined, but I am really going to be strict with myself. That's why I'm letting myself trade within the TBR, but making sure to put limits on that. I figure if I have a book that I want to trade more than once, then I probably don't want to read that book anyway, and I might as well get rid of it.
Without further ado, here is my plan for #RockMyTBR for 2017!
January – The Star-Touched Queen (also for #DAReadathon and #boutofbooks) Done!
February – Sherlock Holmes box set (four books)
March – Daughter of Smoke and Bone series by Laini Taylor (have read the first one)
April – The Silmarillion by Tolkien and The Wake by Paul Kingsnorth
May – Very Good Lives by JK Rowling
June – Northanger Abbey by Jane Austen
July – Game of Thrones book 1 by George RR Martin
August – Mary E Pearson Remnant Chronicles series
September – The Late Homecomer by Kao Kalia Yang
October – Thursday Next series by Jasper Fforde (have read the first three but need to start over)
November – A Breathtaking Work of Staggering Genius by Dave Eggers
December – Potluck Supper with Meeting to Follow by Andy Sturdevant
Wish me luck!