What better way to start the New Year than with a reading binge? I saw the announcement of the #DAReadathon Challenge on Twitter just before Christmas and while I had it in my head I simply couldn't sit down to sort it all out. This is one of the more complicated challenges I have seen, but since it involves Harry Potter and reading more diverse books, I simply couldn't pass it up without at least trying.
Many of you know that the diverse books movement has been a big thing throughout the past year. It would be nice if we could say that it wasn't needed, or that it had been going on a lot longer than that. But judging from some major faux pas recently by major published books, it is still needed, and we need to realize that those from marginalized groups need to have their own voices, and need to have representation in the publishing industry.
Publishing is just telling stories, after all, and how can we say we are doing a good job of that when we aren't telling all the stories – just select ones that are curated by one race, one gender or one worldview?
So in my own small little way, I'm going to be working on this. I'm doing this challenge, and I'm sad to say that for some of these prompts, I'm not sure what I will read. I wish I could readily answer each one. Clearly, I have some work to do.
The challenge began yesterday (oops!) and goes until January 15. Each of the books should fit in with one of the prompts, which are named after spells in the Harry Potter fandom. Since this is one of my favorite fandoms, I was very attracted to this idea. Also, for those of you who don't know, the DA in the challenge name stands for Dumbledore's Army. Well, we need this more than ever now, don't we? I like everything about the way this is set up.
Here are some of my picks. I'll need help with this one, so if you have suggestions, please let me know in the comments! Or find me on Twitter or Instagram. I want to hear recs, people!
Expecto Patronum – diverse book featuring issue of personal significance to you or a loved one – I'm going with The Girl From Everywhere by Heidi Heilig – because it deals with a girl's relationship to her father. I imagine that Nix's is more complicated than mine, since her father wants to return to where her mother died, and possibly could. And mine, well, can't. But it sounds eerily familiar and I am sure this will bring up some long-buried feelings for me. Plus, all the cultures involved just sound fantastic. And I have an ARC of the sequel, so must read this first!
Expelliarmus – diverse book featuring a marginalised group you don't often read about – So maybe this would be LBGTQIA? Because I've not read much in that area.
Protego – Read an #ownvoices book for this prompt – Labyrinth Lost by Zoraida Cordova – I won this in a Death Day chat back in early November. I really have been paying much more attention to the traditions of Day of the Dead lately and I am very excited to read a book by someone who grew up in that culture and has a story that centers around it. I had to resist picking this up earlier to save it for this challenge, so now it's time!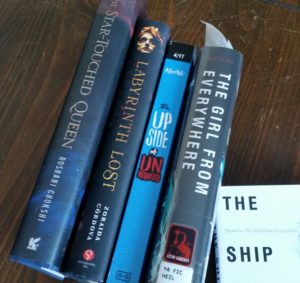 Reducto – a book that empowers women from all different walks of life – Here we have The Upside of Unrequited by Becky Albertalli. I received an ARC of this at Heartland Fall Forum, and then I interacted with Becky on Twitter a bit, and well, bam, this shot up to the top of my TBR. This features an overweight teen who is a bit confused about her sexuality, and has a twin sister. I am going out of a limb a bit here to say that it empowers women, but if there is an Upside to Unrequited Love, it has to be empowering, right? This releases in April so I am excited to be reading it so early.
Impedimenta – a diverse book that has been on your TBR for far too long! – This has to be The Star-Touched Queen by Roshani Chokshi. I have had this since it released and it is so beautiful, and I have heard so much about it, but I have only picked it up once. And now that the sequel is coming out, I really need to get on it. I love following her on Twitter and Instagram so I am really looking forward to finally reading this!
Stupefy – a diverse book that has stunned the internet with all its well-deserved hype – The Sun Is Also a Star by Nicola Yoon – this is a contemporary, which I don't often read, which is also good for me to do once in a while. This title has landed on many year-end best lists, and I have heard it compared to Rainbow Rowell's Eleanor & Park, so of course that piqued my curiosity. Then I won a copy, and well, here it is!
Lumos – a diverse book that was recommended by one of your fellow book bloggers – I would like this to be the forthcoming History Is All You Left Me by Adam Silvera, recommended recently by the always-reliable Brittany at Brittany's Book Rambles, but alas, it does not come out until January 17 and I don't have an ARC. In her last BBTC chat, she featured this book and Adam took part. It was a delight. But I must find me something else so I'll be asking my blogger friends!
From the website of Aente, Read at Midnight, the host of this challenge, here is her brief definition of what a diverse book is: "Any book that features a diverse experience such as LGBTQIA, ethnic, cultural, religious, gender diversity, indigenous, neurodiversity, people with disabilities."
I still have two slots to fill, so I'll be actively looking for those books which can fulfill these areas. I would love to find something with Native Americans (I really love all I've read by Louise Erdrich and Sherman Alexie), or something that I perhaps hadn't thought about reading at all. I don't know, it could be anything. The bottom line here is that this challenge is already a win for me, because it has me searching my book piles (and my booktree, because there is The Sun Is Also a Star, about halfway down! Which is why it is not pictured above!) for those stories.
There is a points component to this challenge too, but I won't be worrying about that. I honestly have enough to do in the next two weeks. But this is a great start to my year and I'm really looking forward to it! What are your favorite diverse reads?
Bonus: For this challenge, I finally went to Pottermore and found out what my Patronus is! And while it was quite a process, I discovered that it is the "unusual" Patronus of a Leopardess!
I'm also going to try this year again to do the #RockMyTBR challenge from Sarah at The YA Book Traveler. I fell off the wagon on this one last year. And this week I'm doing the #BoutofBooks readathon (which is only one week, from Jan 2 to Jan 8). Here is the info on the #Bout of Books Readathon, for which I will be using the same books as for the #DAReadathon, and then if I run out of books, I will just add more! The stack helps me to put blinders on and means that I really will complete the books that I have listed.
The Bout of Books read-a-thon is organized by Amanda Shofner and Kelly @ Reading the Paranormal. It is a week long read-a-thon that begins 12:01am Monday, January 2nd and runs through Sunday, January 8th in whatever time zone you are in. Bout of Books is low-pressure. There are challenges, giveaways, and a grand prize, but all of these are completely optional. For all Bout of Books 18 information and updates, be sure to visit the Bout of Books blog. – From the Bout of Books team