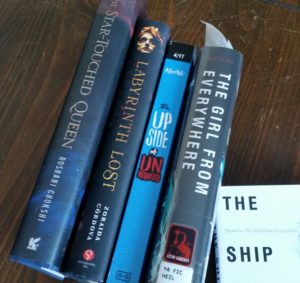 I finished the #DAReadathon!
I had a great time reading these books. Oh my gosh. They were SO good. I didn't complete my whole TBR but I made a sizable dent and I am very happy with that. You can see my original post here.
I started with The Star-Touched Queen by Roshani Chokshi, which I had always heard was very beautifully written. Well, I'm here to tell you that it is not only beautifully written, but it is an utterly beautiful story. This book is gorgeous in every way. I gave it five stars on GoodReads (and I never give star ratings!). I had received this book back when it was released in May. I actually won it from a GoodReads giveaway – so thanks GoodReads and Griffin Teen!
I found this story to be breath-taking. I don't want to say too much because Spoilers but just trust me. It envisioned a world bigger than imagination. This book takes place in a Persian-inspired world, and it is full of cultural references. I loved that, and I loved the world and the characters. There are themes of love, and life, and death and what it all means. The writing is LUSH. I am very glad that I finally read this one! This also Rocks My TBR because I've had it since May. This was for the Impedimenta prompt. Here's a taste:
"Neither the secret whirring song of the stars nor the sonorous canticles of the earth knew the language that sprang up in the space between us. It was a dialect of heartbeats, strung together with the lilt of long suffering and the incandescent hope of an infinite future."  p332
Then it was on to Labyrinth Lost, by Zoraida Cordova, which I had won in a chat on Twitter in early November. This fit perfectly into the Protego prompt – #ownvoices. I really had to be restrained waiting this long to read it. It takes place in Brooklyn, but the MC is a bruja, which is a sort of melded cultural group that has aspects of Santeria and pagan ideals coupled with the Mexican Day of the Dead rituals. I loved Alex, and I loved the way this story wove itself around a completely new world and claimed it as its own. It felt rich and satisfying.
I then picked up The Upside of Unrequited, which was fantastic. This is outside my typical oeuvre, because I rarely read YA contemporary, but I'm glad I read it. This was for the Reducto prompt. I had been talking with someone on Twitter – or some such thing – and Becky Albertalli chimed in and I liked her so much I moved this right up my TBR (I received my copy at the Heartland Fall Forum). It was funny and bittersweet, saved from being saccharin by amazing insights and deadpan humor. I found myself laughing out loud quite a bit! The young love aspect is enriched by the non-traditional family and Molly's issues with her own body image and questions about life. I loved this book so much that I offered to trade it to another blogger so it could get more love, and in return I get a copy of History Is All You Left Me by Adam Silvera! I am so excited to read that, thanks to Kendice, who blogs with Emily at EmilyReadsEverything.
The books I didn't get to were The Girl from Everywhere by Heidi Heilig (Expecto Patronum prompt) and The Forbidden Wish (which was my blogger rec under the Lumos prompt). And The Sun Is Also a Star, for the Stupefy prompt, which was buried in my Christmas booktree. I also didn't get a book for the Expelliarmus prompt. I really should have thought more about this. I'd like to do it again!
I did a little bit of score-keeping, and here is what I came up with for House Points. Go Ravenclaw!
I read 913 pages so at 1 point per each 10 pages, that gives me 91.3 House Points. (I was on page 235 of Unrequited when the challenge ended.) 336 +342 +235
I completed two books so I get 5 points for each, which is 10 House Points.
I reviewed two books on GoodReads. I don't know if that counts. But if it does, that gives me 10 House Points. If it only counts for blog reviews, then I did not get any of those posted yet, but look for my upcoming reviews!
I posted an image of my #DAReadathon ID on Twitter for 1 House Point.
I tweeted using the hashtag at least five times. That's how I got the blogger rec (two different people recommended the same book!). I posted a picture of my TBR on Instagram for an additional point (with 70 Likes, tyvm). So that makes 6 House Points for social media (which is unbelievably low of the 20 points possible).
This gives me a Grand Total of 27 + 91.3 = 118.3
All in all, I'm pretty happy that I stuck to my TBR and got to read some really good, culturally rich books. I think this was a fantastic challenge from beginning to end. I loved the Harry Potter element and being a member of Dumbledore's Army, as well as the spell prompts. I also loved that you had a specific prompt to get recommendations, and that it really made you think about what you were reading. Very fun, and I would do this again in a heartbeat!
This weekend I'm nibbling at the #24in28 Readathon, but I am really not doing a good job at that. I was all set to get in a good hunker-down reading day yesterday, but somehow it didn't happen. Next up I've almost got my #RockMyTBR Challenge list. More reading today!