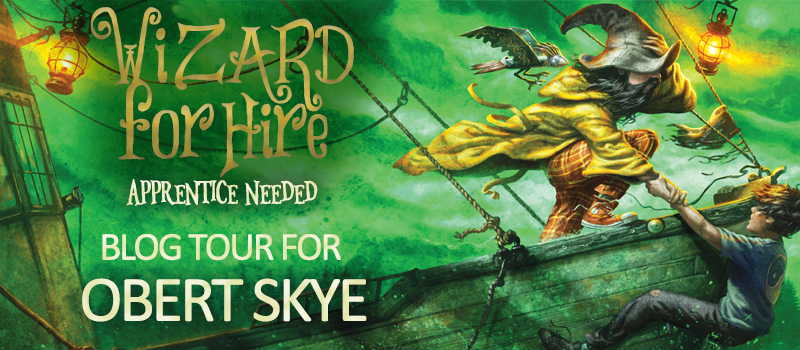 Today I am participating in the blog tour for Wizard for Hire: Apprentice Needed by Obert Skye, which is  the second book in a series. Now, don't be discouraged. The first book is so good, that you will be so happy that the second book is already out!
This is the Wizard for Hire series. In the first book, Ozzy grows up alone in the cloaked house in the woods. His parents were kidnapped from their house when he was seven. He is determined to find them some day, and then he sees an ad for a Wizard for Hire in a local newspaper. This is how he meets Rin.
There is also Sigi, who Ozzy meets out on the beach, who happens to be Rin's daughter. And Clark, a sentient mechanical bird that Ozzy's parents built, that keeps him company. And provides a lot of comic relief! The themes in this series, of loss, of grief, of realizing your potential, can be pretty heavy at times, so having Clark there is just as much a comfort for us as it is for Ozzy, it seems. We all come to like Clark so much, even though he has an affinity for mailboxes and spoons, that when he is threatened, it really makes you suck in your breath!
But on with the story. I don't want to spoil you so I'm not going to recap the plot of the first book. I am, however, going to tell you to go get it right this minute, if you like anything to do with magic, and are game for a rollicking, irreverent Middle Grade. This is Harry Potter meets Discworld, in the best way. It is not perfect, but it has enough ah-ha moments, and laugh out loud funniness, and edge of your seat danger, that it will keep you turning pages long into the night.
In book two, we go on a wild ride from the cloaked house in Oregon to New York City. I loved the characters, and how they grew in this book, especially Ozzy. As I mentioned, the themes in this book touch on grief and loss, but here we get much more of Ozzy reaching for his own potential. He is suddenly declared to be Rin's Apprentice, and finds out he has to undertake five tasks. But he doesn't know what they are. And Rin ain't talking. Or, well, he is, but sometimes it is hard to understand what he's talking about.
Meanwhile, they are all being pursued by Ray, and his henchman, Jon. You won't feel sorry for Jon for long. I really can't say much more without spoiling it, so trust me, these are villains you will love to hate. I highly recommend this for anyone who has read Harry Potter, whether adult or child, and is looking for more of that idea of being an outsider who finds his crew, and there is every bit of a hint of magic here too. But is it really magic? I think we are about to find out.
Even though this book is a contemporary (like Harry Potter), it will feed your need for magic, and fantasy, and Rin lets us know more and more about Quarfelt, his wizard home. And there is plenty of homage to Harry Potter, so I think Skye is perfectly aware of similarities. Like the Cinco-Wizard Competition (or Cin-Wiz-Com) – the five tasks Ozzy needs to complete.
"Is that anything like the Triwizard Tournament in Harry Potter?"
"No, this one has five things. And it's just for you."
Don't ever expect a straight answer from Rin. But sometimes, he can be very wise indeed.
I will definitely be looking for book three in this series. Book two released last week, so I have a bit of a wait. But that's okay. I'm willing to binge all three. And Obert Skye also wrote the Leven Thumps series, and I have book one of that sitting here waiting for me.
Wizard for Hire: Apprentice Needed by Obert Skye
Hardcover, 416p, ISBN 9781629725291, $17.99
I received an advance copy of this book from Shadow Mountain Publishing in exchange for my honest review.